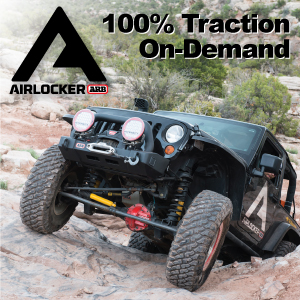 ARB Air Locker
ARB Air Lockers are the ultimate in Selectable Locking Differential technology.
Created to provide 100% traction on demand, without sacrificing any of your vehicle's highway driving performance, ARB Air Lockers employ a 12 volt ARB Air Compressor designed to activate (and deactivate) a solid and durable locking mechanism inside the differential. This gives you the traction you need, when you need it, all at the flip of a switch and all within the comfort of the driver's seat.
ARB Air Lockers are manufactured in Australia by ARB and sold throughout the world. With coverage for more than 100 different vehicle models, odds are that there is an ARB Air Locker to fit your vehicle.
For peace of mind, all ARB Air Lockers are backed by an industry leading five year warranty.
No maintenance, Just Traction!
Call 1(800)787-8012 for a quote, or use our easy online form.