Detroit Locker
The Detroit Locker is a 100% automatic locking differential that provides ultimate traction for mild to extreme vehicle applications. Its unique, bullet-proof design is engineered to keep both wheels in drive mode – even if one wheel is lifted off the ground. It works in forward and reverse, and features unmatched strength, 100 percent automatic locking, and maintenance-free parts.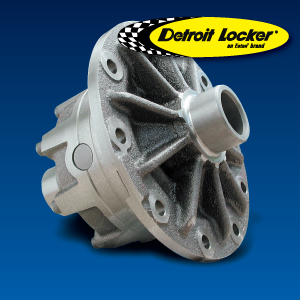 Manufactured by Eaton Performance
Detroit Lockers have been the differential of choice for professional racers and off-road enthusiasts for decades. Virtually bullet-proof, this speed sensitive automatic locking & unlocking differential powers both drive wheels. Automatically permits wheel speed differentiation as needed. No other performance differential has the reputation for delivering traction in mud, snow, rocks and on the track.
100% automatic locking – no driver action needed
Provides maximum amount of traction to both wheel ends
Validated performance and durability
Maintenance free
Engineered Efficiently
Detroit Lockers are available for many applications, including Chrysler, Dodge, Ram, Ford, Lincoln, Chevrolet, Pontiac, Buick, Oldsmobile, Corvette, Jeep, AMC, Nissan, Toyota, Isuzu, Rover and International Harvester. We have units in stock for most applications.
No maintenance, Just Traction!
Call 1(800)787-8012 for a quote, or use our easy online form.