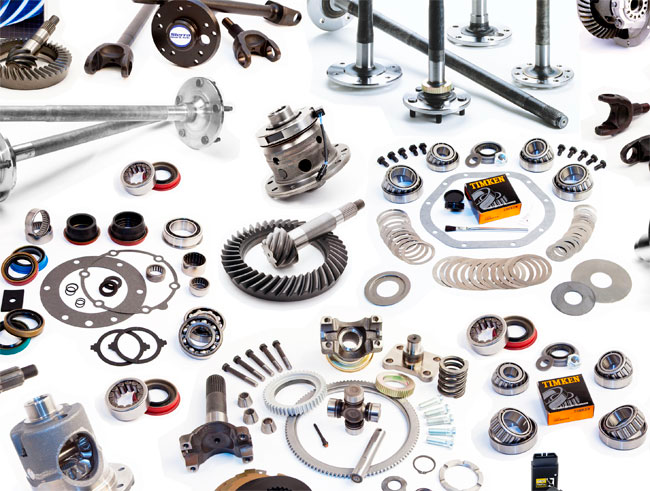 Repair Services - Ring and Pinion, Axle and Differential
Ring & Pinion Service is the Sacramento Area's most complete Differential Repair and Service facility. We service, repair and replace the following differential and axle components:
Ring and Pinion Gear Sets
Standard Differentials
Limited Slip Differentials
Locking Differentials
Spools
Differential Internal Gears and Parts
Differential Bearings
Differential Seals
Axle Shafts
Axle Bearings
Axle Seals
Differential Yokes
Differential & Axle Performance Upgrades
We can recommend and install limited-slip and locking differentials for increased traction as well as upgraded axle shafts manufactured from stronger than OEM materials. Stronger differentials and axle shafts with increased spline counts are also available for some vehicles. Explore our performance upgrade options on our
Upgrades Page
.
Ring and Pinion, Differential, and Axle Replacement Parts
Ring & Pinion Service stocks complete lines of Original Equipment (OEM) parts, high quality aftermarket parts, and less expensive budget parts. We will get your vehicle back on the road quickly, using the highest quality parts available, suited to your performance needs and budget.
Estimated Differential Repair Service Times
Most differential repair, service or axle repairs at Ring & Pinion Service will only take a few hours once your vehicle is processed into our work flow. We offer same day service in most cases. Customers who are not able to leave their vehicle can make an appointment, and have repairs done while they wait.
Pinion Seal/Axle Seal Replacement: 0.5-1 Hour
Differential Bearing Replacement: 2-3 Hours
Ring and Pinion Replacement: 2-3 Hours
Differential Replacement: 2-3 Hours
Independent Front Suspension Differential Work: 3-4 Hours